How does the new "Help to Buy" scheme work.
If you're a first-time buyer in England, you can apply for a Help to Buy: Equity Loan. This is a loan from the government that you put towards the cost of buying a newly built home.
You can borrow a minimum of 5% and up to a maximum of 20% of the full purchase price of a new-build home.
You must buy your home from a homebuilder registered for Help to Buy: Equity Loan. Peter Ward Homes is registered as a Help to Buy builder.
The amount you pay for a home depends on where in England you buy it. For Yorkshire and the Humber, the price of the house cannot exceed £228,100.
The equity loan, the deposit you have saved, and your repayment mortgage cover the total cost of buying your newly built home.
The percentage you borrow is based on the market value of your home when you buy it.
You do not pay interest on the equity loan for the first 5 years. You start to pay interest in year 6, on the equity loan amount you borrowed. The equity loan payments are interest only, so you do not reduce the amount you owe.
You can repay all or part of your equity loan at any time. A part payment must be at least 10% of what your home is worth at the time of repayment.
Example: for a home with a £200,000 price tag: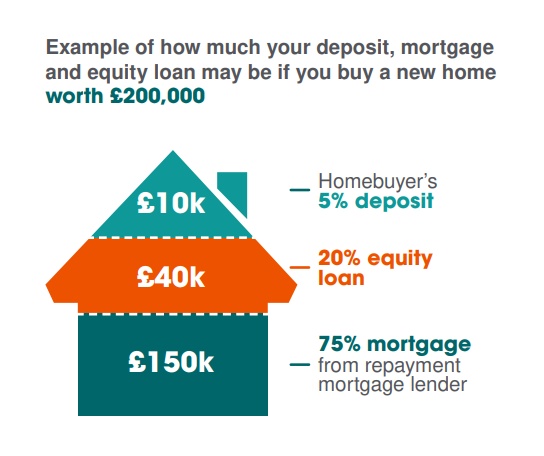 Here are some of the main points of "Help to Buy":
'Help to Buy' is available to first time buyers buying new build homes
All you need is a minimum 5% deposit (or more) to qualify.
The Government can then lend you up to 20% of the value of your property through an equity loan.
You have to pay the loan off at the end of the term (25 years) or earlier if you pay off your normal mortgage or sell your home.
If you have an existing home to sell, you are not eligible for 'Help to Buy' – but we have a range of other options to help you move into a Peter Ward Home.