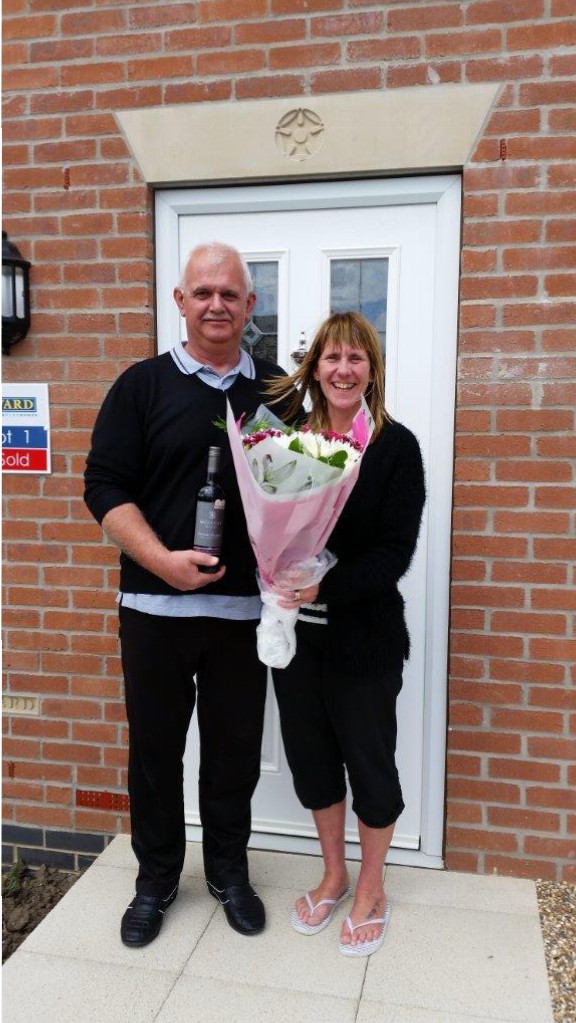 The Normington family have recently become the first family to move into Peter Ward Homes' exclusive new development, The Manor in Gilberdyke. This marks the first milestone for The Manor, which has had a remarkable amount of interest from many buyers, keen to get a taste of a Peter Ward home.
John and Lorraine Normington were amongst the first buyers lucky enough to find their perfect family home. After seeing the old Captains Close development in Goole, completed in 2012, the family were impressed with the quality and precision of the build. They then went on to enquire about this current development in Gilberdyke. After viewing many of the house types available at The Manor, they fell in love with three bed, semi-detached home, called The Woking.
Mrs Normington said, "When we first saw The Woking we knew it was for us. We love how much space there is – especially in the Kitchen and Utility Room. Not to mention the perfect location. Words can't describe it. It's just fantastic. We couldn't be more thrilled to finally be in our brand new home. It was definitely worth the wait and it was great value for money."
The Woking is just one of 7 house types available at The Manor. With a mixture of detached, semi-detached and terraced houses, there is something for everyone.
One person who has seen just how happy the family are, is Peter Ward Homes' Sales Representative, Sarah Shepherd. Sarah has guided the Normington family through the process of purchasing their home, to make it as easy and unnerving for them as possible.
She said, " It's great to see John and Lorraine have settled in well and are enjoying their new home. It just goes to show how the right home can make a real difference to your life. People search and search for their perfect home and think they will never find it. Fortunately, this family have and we are delighted they have found it with us. It has been a pleasure to get to know them and we would like to wish them the best of luck in their new home."
Mrs Normington also took this opportunity to say a few words.
"On behalf of my husband and son, we would like to thank Sarah for all the help she has given us in the past year. She has been fantastic. We couldn't have asked for anything more."
To view the house types and special summer incentives available at The Manor in Gilberdyke, visit: www.peterwardhomes.co.uk